by Rachel White
Having recently moved from the most inland County in Ireland – Laois to the beautiful coastal town of Kinsale, County Cork, I became a student of Kinsale Community School www.kinsalecommunityschool.ie  in September 2014. To my delight I joined as a Transition Year Student, which has been brilliant so far. Not only am I getting to make new friends through the various projects we do but I also get to explore what it is like to work in certain areas that interest me as careers after school.
I have always loved the sea and I would like to study and work in the area of Marine Biology. So to my delight Anne and Graham responded positively to me when I requested to do some work experience, with their company Oceanaddicts. As I say coming from Landlocked Laois I actually have no sea faring experience as many of my friends down here would have simply by living beside it all their lives. Anne highlighted to me that their ship the Embarr would not be on the sea during February but if I truly wanted to experience the 'off season' and I suppose the real work that they do during that period, that I would be more than welcome.
In my head I thought 'shur that's fair enough and I suppose I expected to be helping out cleaning the boat or with some paperwork. I was happy to hear about the diving work they do during the Summer months and be shown the photos of the world under sea in this area through the photos. Listening to Anne speak of the tiny creatures under Irish waters that she has seen only added to my excitement.
Little did I know I would do all the above and be taken on an adventure over a few days! Failte Ireland's conference on promoting The Wild Atlantic Way was my introduction. The rugged coastland from Kinsale to Donegal and all the areas of interest in between are being acknowledged for their outstanding natural beauty. Millions are being spent to nurture tourism through international marketing. Oceanaddicts offer diving experiences to see what's under the waves around Kinsale allowing the divers to immerse in the wonderful reefs teeming with life and colour.
I actually came home in the car with Maps, brochures and a plan of even travelling across land to follow the Wild Atlantic Way this Summer – I'm sure I could convince my parents!!! It was then that Anne suggested if I was free that evening she would take me to Cork for a Test Dive!!!!
Wow, how could it get any better than this? The pool she told me would be 2.5 meters deep to 5 meters at its deepest. She suggested my landlocked parents might be slightly terrified to let their pride and joy take the plunge, so to seek permission before accepting the offer!
Luckily my mother's mind doesn't work in feet and meters so I grabbed my unchristen brand new 16th birthday present wetsuit and headed back towards Anne and Grahams house in Novohol to travel to the National Maritime College of Ireland.
Out of the van and that's when I realised the weight of the dive tanks as I helped lug all the gear up stairs to the pool. This was no ordinary swimming pool. It has facilities to generate waves, rain, and imitate storms at sea. This is training ground for the Irish Navy.
I waited my turn as Anne was training her students for their PADI licences. Geared up with weight belt, flippers and dive tank the first task I had to complete was breathing through the mouth piece to ensure I could breathe correctly using the equipment. I couldn't wait to get under! So, down the steps, onto the platform, breaths and under the water and I swam the 2.5 area and up to the massive drop into the 5 meter wall of water. Anne obviously controlled my buoyancy which dictated how far down underwater I could go. Wearing the flippers helped propel me through the water and the heavy air tanks had lost their weight. It was great. After a while, my left ear refused to release pressure so that was the indication to finish. I was thrilled with myself. I genuinely didn't think I would get this chance to dive and am so grateful to Anne for the experience. I will definitely be signing up to do a PADI licence and am hatching a plan to do so this year. I'm working on getting a summer job as a Lifeguard.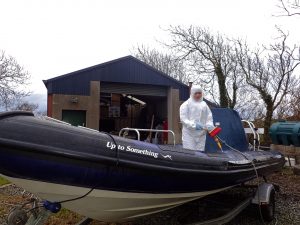 The next day as I rinsed all the diving equipment to stop the chlorine crystallising the respiratory equipment, I kept thinking about what it would be like to actually dive out at the Old head of Kinsale or down to the shipwrecks that Graham talks of. I would love to see for myself the colours that Anne told me are under the Irish Sea not just in the barrier reef in Australia!. Then armed with brushes and hose and soap solution I cleaned their other boat a rib named Up to Something. I gladly scrubbed as I dreamed of being out rounding Mizen Head enjoying the Wild Atlantic in all its ruggedness! Anne allowed me to help with computer work. Happily I typed in data of the air tanks and I imagined how I will go deeper the next time I'm in the pool! Aim for the bottom I thought and you'll hit the sea I suppose!
I have left Oceanaddicts with my fascination turning to an addiction! I will definitely take Anne up on her kind offer to go out on the Embarr during the summer when the season starts. I am very grateful to Anne and Graham who gave me great encouragement and insight to how they work their company. I hope to be diving off the Embarr someday in the future and no doubt will blog about that too!