Unless you are an Irish scuba diver you might not immediately think of Ireland as a place to dive, or indeed know anything about diving in Ireland. So now is the time to find out more about what you are missing out on.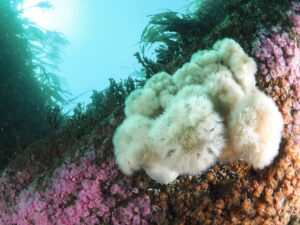 Easy Access
We want to tell the world about how good diving in Ireland really is. At our dive center, Oceanaddicts, based in Kinsale Co Cork, https://www.kinsale.ie we would love to introduce you to our underwater world. The town of Kinsale is only 30m minutes form Cork and if you fly into Cork airport you are only 25 minutes from Oceanaddicts.
Unique Diving Conditions
On the South coast of Ireland the warm current of the Gulf Stream mixes with cooler deep-water currents.  The mixing of the warm and cooler currents brings an explosion of life in our little bit of the ocean.
Water Temperature when Diving In Ireland
The Gulf Stream keeps the water temperature between 15 to 18 degrees C (49º-59ºF) in the summertime. Winter temperature range from 8 to 9 degrees C. The "warm" summer temperatures, means that if when diving in Ireland you are in a warm wet suit or in a dry suit  you will have a very enjoyable and comfortable experience.  If you would like to dive in a Drysuit then we can always do a drysuit speciality with you. https://oceanaddicts.ie/padi-diver-training/padi-speciality-courses/dry-suit-diver/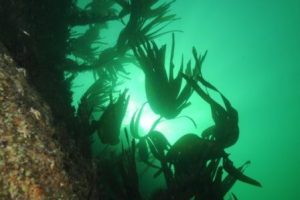 Visibility Diving In Ireland
When diving in Ireland the visibility is generally good in Summer. A plankton bloom may reduce visibility for a couple of weeks in early spring but the presence of plankton will bring in lots of marine life, so more for you to enjoy. In Summer the visibility inshore averages between 8m to 15m.
Marine Life to see diving In Ireland
Divers with only warm water experience will be surprised at the amount and diversity of marine life they will find in the waters off the Irish coast. Many dive sites are full of colourful sponges and anemones. Small cat sharks patrol the kelp forests. There is a wide verity of crustations including lobster, cray, shrimp and crab. Conger eels live in the reef and very often share their home with shrimp. A real surprise for many divers is the wide variety of nudibranchs we have. Once you spot one you will start to see loads. You will also see "families of skeleton shrimps living on a single hydroid. I could go on and on but come diving in Ireland and will see for yourself.
  
Other Advantages to diving in Ireland
Another point that favours Ireland as a scuba diving destination, especially if you live here, is that we are a small country and you are never too far from the coast and good diving spots. Dives sites are uncrowded, most of the time your dive boat will be the only boat at the dive site.
So now is the time to explore the real hidden Ireland, underwater no better place to start than here in Kinsale with Oceanaddicts. So if you want to dive in and explore for yourself, contact Anne anne@oceanaddicts.ie to book your dive.