Becoming a Dry Suit diver will expand your dive opportunities, allowing you to dive more places and more often. The dry suit will keep you comfortable even in cold water.
There is amazing diving in the world's cooler regions, becoming a dry suit diver allows you to expand your boundaries and dive more place and more often. Once you have completed your Open Water certification you can enrol in a Dry suit course.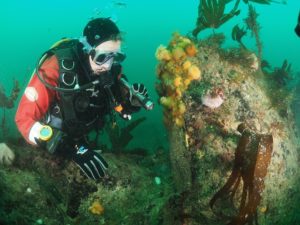 What you will learn
The different types of Dry suit styles and accompanying undergarments and deciding which will suit you best
Care of your Dry Suit
Putting on and taking off your dry suit with minimal assistance.
Mastering buoyancy control using your dry suit.
Dive safety procedures when using a dry suit.
The first dive of this course and count as one of your adventure dives towards your Advanced Open Water certification
Equipment
If you do not have a Dry suit of your own, we have O'Three Dry suits to allow you to complete the course. The suits may be rented once you have completed the Drysuit certification. If interested contact a member of the Oceanaddicts team.