Learn to scuba dive in Beautiful Kinsale, Ireland.
In the PADI Openwater Diver course you will learn how to scuba dive as an independent diver with a buddy to a depth of 18 metres. PADI's (Professional Association of Diving Instructors) certifications are recognized across the Globe and this course will open the door to a wonderful new world of undersea adventures here in Ireland and abroad. 
Special Offer We offer half price rental to all divers who have completed their training with us
You will need basic swimming skills and need to be in good physical health. No prior experience with scuba diving is required.
The PADI Openwater Course will Cover, knowledge development, dive skill development and open water dives.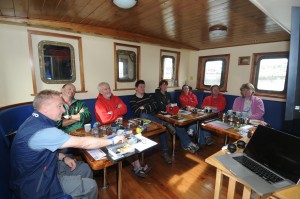 The knowledge development is done by you using the PADI pack with guidance from our instructors, in your pack you will receive a book and DVD which you will study at home. Your instructor will review your knowledge with quizzes through out the course. You can also choose to do the knowledge development by taking the PADI  eLearning option. With this option you will download the materials from the PADI web site https://www.padi.com/padi-courses/open-water-diver and do online quizzes to test your knowledge. You will then come to us for the other two sections of the course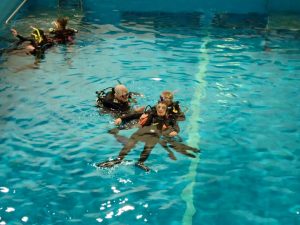 The skill development takes place in the pool in the Marine College of Ireland or confined body of water in the sea. This is where you will learn the skills necessary to dive safely and enjoy your diving.
The open water dives are the last section and these take place from Kinsale. Now you are on your way, you will join the dive boat with your instructor to dive in the sea and enjoy the marine life. We also incorporate some skills in these dives, and you will be gaining the experience you need to dive independently with a buddy once you have completed your course.
Courses are ongoing throughout the year, and bespoke courses can be arranged. Contact Anne anne@oceanaddicts.ie for full details
Course Cost
If you choose to get the PADI Pack from us the cost of the course is €595. This price includes all the equipment you will need for the course, the course pack, and your certification.
If you choose to do the eLeraning the cost is €520 which again includes all the equipment you will need. you will need to add €138 plus VAT which is payable to PADI direct. Just follow this link to purchase the eLearning pack from the PADI website.  https://www.padi.com/padi-courses/open-water-diver
Whichever option you choose a deposit of €150 is required to secure your place on a course. The balance of the course can be paid all at once or in instalments.