Are you short on time, but would like to become a certified Scuba Diver, then the PADI Scuba Diver certification might just be for you. This course is a subset of the PADI Open Water Diver course, covering only the first three of five sections of knowledge development, the first three of five pool sessions, and the first two of four open water training dives, resulting in a limited certification. On certification you will be required to dive with a PADI Professional. The Scuba Diver course is a good warm-up for the Open Water Diver course, if that's your ultimate goal.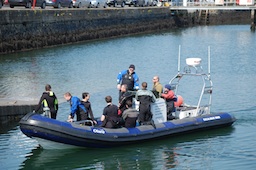 PADI Scuba Divers are qualified to:
Dive under the direct supervision of a PADI Divemaster, Assistant Instructor or Instructor to a maximum depth of 12 metres / 40 feet
Obtain air fills, rent or purchase scuba equipment and participate in other diving activities as long as they have the required supervision
Continue their dive training and complete PADI Open Water Diver certification and other courses such as Project AWARE and equipment specialty courses
The Fun Part
The Scuba Diver certification allowes you to experience the underwater world.  Upgrade to Open Water Diver whenever you want! With less time than the Scuba Diver course takes, you can make the jump to Open Water Diver certification and start scuba diving independently whenever time allows or you're up for more. This course is perfect for the person that has no time and is about to head away on a holiday where the dive will be guided by a Divemaster.
What You Learn
All the basics of scuba diving through knowledge development, a set of scuba skills in the pool that you'll use again during open water dives.
The Scuba Gear You Use
You'll use all the basic scuba gear, which is included in th price of the course
The Learning Materials You Need
PADI offers a variety of home-study materials for the Scuba Diver – book and DVD package or a multimedia DVD. PADI's Scuba Diver materials provide a comprehensive overview of basic scuba diving skills, terminology and safety procedures. For each concept you'll read a description and watch a video demonstration. Once you're a certified diver, use the course materials as a reference guide for future diving adventures. For all your learning materials and equipment, contact a member of the Oceanaddicts team
Prerequisites
Be 14 years old  and in good general health
For more information about this or other PADI courses have a chat with one of the Oceanaddicts Team members.