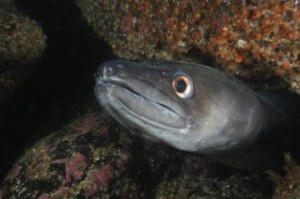 The conger eel is the largest eel like fish found in the water off the South Cork coast in Ireland. It can grow as long as 3m although most are less than 2m. Congers have a long, cylindrical body and smooth, scaleless skin. The dorsal fin starts just above the tip of the pointed pectoral fins and runs the length of the body, joining with the tail and anal fins. Two small, tube-like nostrils are conspicuous on the tip of the snout. Congers are usually slate blue in colour with a lighter underside.
Divers will usually only see the congers head sticking out of the Rocks or the wreck where it is hiding. They are nocturnal fish emerging at night to hunt crab, lobster, octopus and other bottom living critters.
Congers are common on many of the dive sites on the South coast of Ireland and are regularly encountered by divers on our wreck and scenic dives.