We run Guided Snorkel Trips on demand, from our base on board our dive center boat "Embarr" The snorkels are guided by experienced snorkel instructors, who will look after your safety and show you some of the marine life of our area. Our guides are experts at taking people to the best areas. We decide where to go depending on the tide and the weather conditions on the day. We also take in to consideration our customers experience level.

You don't have to be a certified diver to experience the beautiful water world in Kinsale at the start of the Wild Atlantic Way. The tour begins from our Center on Board Embarr which is based at Kinsale Town Pier. You will be fitted with a warm wet suit and snorkeling equipment and you guide will help you choose the equipment that is the right fit for you. They will show you how to use the equipment to ensure a pleasant snorkeling trip.
You will travel to the Snorkel site by RIB (Speed Boat) and you can enjoy some of the finest coastal scenery of the Cork Coast. the Rib will take you to the snorkel site quickly and in comfort. Once at the site you will roll into the crystal clear waters of the North East Atlantic where you will be amazed by the diversity of life you will see.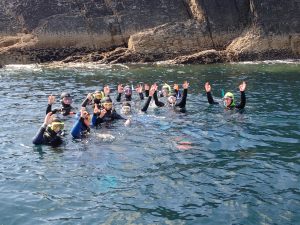 This is a lovely way to spend an afternoon combining activity, marine observation and the thrill of a fast rib ride. Why not come and "Live the Adventure'  contact us today
We look forward to hearing from you