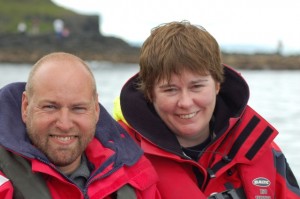 Oceanaddicts is owned and operated by Graham and Anne Ferguson.  Both Graham and Anne are CMAS Moniteur **  dive instructors. Anne is also a PADI Instructor. They have been diving in Ireland and abroad for almost 30years, and both have completed thousands of dives. They love the scuba diving in Ireland especially off the South and South West coast because of the unique marine eco system created by the Gulf Stream.
Graham and Anne are especially proud of the diving in Ireland and of their own part of it along the Cork Coast. They enjoy showing it off to their guests. They believe that the coastline of the South coast of Ireland is one of the most beautiful in the world and is largely unexplored especially under the water.
Graham has been involved in water activates all his life. He is the holder of a YachtMaster qualification. Both he and Anne are Diver Boat Cox'n and Diver Boat Cox'n Instructors. They also have a Passenger Boat Proficiency certificate with a Commercial Endorsement.
Graham is passionate about the sea and all things nautical. His interest in boats continues underwater where he regularly dives the wrecks outside Cork Harbour. His diving is not confined to wrecks as he enjoys scenic diving just as much. He has a special interest in underwater photography and is a former winner of Irish Underwater Council's photography competitions
Anne is particularly interested in the marine environment and the creatures that live in it. She also enjoys wreck diving but mainly for the life that is to be found there. She loves dives where she can take her time and have a good look in all the nooks and crannies to find the little critters that live there.