Advanced Open Water Diver
Get more comfortable in the water by completing five adventure dives under the supervision of your PADI Instructor. If you're looking to build your confidence and gain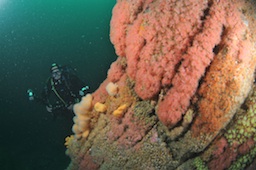 more experience, this is the natural next step. You will do a navigation dive and learn how to navigate underwater, as well as a deep dive. You can then choose 3 adventure dives fora list of different types of dives e.g. wreck dive, underwater photography dive, search & recovery dive, and many more…. On completion of this course you will be certified to dive to a max depth of 30m opening up some more super dive sites for you to explore.   For more information contact Anne anne@oceanaddicts.ie
Rescue Diver
Expand on what you already know about how to prevent problems, and how to manage them if they occur. Learn techniques for self rescue, rescuing panicky divers and unresponsive divers.
Scuba divers describe the PADI Rescue Diver course as the most challenging, yet most rewarding course they've ever taken. Why? Because you learn to prevent and manage problems in the water, and become more confident in your skills as a diver, knowing that you can help others if needed. During the course, you learn to become a better buddy by practicing problem solving skills until they become second nature. Plus, the course is just fun – it's serious, but still allows for lots of laughter in between the focused learning.
You also need to have Emergency First Response Primary and Secondary Care (CPR and First Aid) training within the past 24 months. You can complete this training during the Rescue Diver course.
For more information contact Anne anne@oceanaddicts.i
Divemaster
Do you love scuba diving? Want to share it with others on a whole new level? then maybe the PADI Divemaster course and do what you love to do as a career. Scuba divers look up to divemasters because they are leaders who mentor and motivate others. As a divemaster, you not only get to dive a lot, but also experience the joy of seeing others hav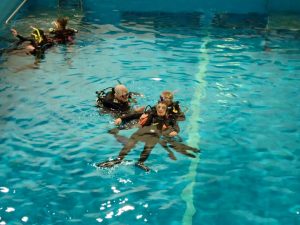 e as much fun diving as you do.
The PADI Divemaster course is your first level of professional training. Working closely with a PADI Instructor, you'll fine-tune your dive skills, like perfecting the effortless hover, and refine your rescue skills so you anticipate and easily solve common problems. You'll gain dive knowledge, management and supervision abilities so you become a role model to divers everywhere.
As a PADI Divemaster, you'll lead others as you supervise scuba diving activities and assist with diver training. Whether you want to work at a faraway dive destination or close to home at a local dive shop, the adventure of a lifetime awaits you. PADI Divemasters are respected dive professionals who are aligned with the largest and most respected dive organization in the world – PADI.
PADI Rescue Divers who are at least 18 years old may enroll in the PADI Divemaster course. You also need to have:
Note that qualifying certifications from other diver training organization may apply – ask your PADI Instructor.
What will you learn?
The PADI Divemaster course teaches you to be a leader and take charge of dive activities. Through knowledge development sessions, waterskills exercises and workshops, and hands-on practical assessment, you develop the skills to organize and direct a variety of scuba diving activities. Topics and practical workshops include:
The role and characteristics of the PADI Divemaster
Supervising dive activities and assisting with student divers
Diver safety and risk management
Divemaster conducted programs and specialized skills
Business of diving and your career
Awareness of the dive environment
Dive setup and management
Mapping an open water site
Conducting dive briefings
Organizing a search and recovery project and a deep dive
Conducting a scuba review and skin diver course
Assisting with Discover Scuba Diving and leading Discover Local Diving programs
For more information contact Anne anne@oceanaddicts.ie
Speciality Courses
A number of Speciality courses are available for more information contact For more information contact Anne anne@oceanaddicts.ie